We make your business
shine
on the web.
Your Website represents your business identity
Small Business Website Design
Your website does the talking to your visitors and represents your brand on the front. Our website design service focuses on your Business structure and creates the best website that represents and attracts your business to your visitors.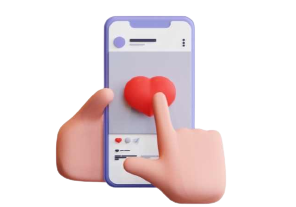 Mobile Friendly
We create websites that are responsive to all devices and screens so all users can easily operate without any hustles or issues.
Graphic Illustrations
We use advanced tools and create the best appealing illustrations that could fit best on the website to give it a more creative look.
Optimized Speed
Fast websites are the best and always convert more. We create websites that are fast for their better performance.
Sales Funnels
We understand your sales process and create easy-to-use sales channels and forms to create a sales flow for your business.
SEO optimized
People are searching for businesses. Your website will be SEO optimized so it can be ranked higher.
Top-Notch Designs
Our creative team comes up with innovative and beautiful ideas for designs, and websites that fit your needs and work best for you.
Step 1: Say Hello
Say us "Hello" here, and we will talk about your project, where we will establish your needs, requirements, goals, and any other aspects that you feel are necessary for the website.
Step 2: Specifications & Quote
We will create a proper proposal with reference to your requirements and milestones and our quote. And once, you're happy, we shall proceed.
Step 3: Research begins
Once you've agreed, our magic begins with brainstorming ideas and analyzing your competition and your niche. This is when you can also pitch in your thoughts and ideas.
Step 4: Designing Process
Now that our mind game is ready, this is where the visual design fun begins. We will start our work to create a beautiful website with quality design and frameworks.
Step 5: Build & Optimize
While the design is in the process, we initiate the building process with your goals in our mind. This is where we create quality funnels and ensure the website is appropriately optimized.
Step 6: Go live & Launch
We will keep working with you till you're fully satisfied and ready to take possession of your newly built website. This website is all your intellectual property.
We use Best Technologies
After understanding our client's requirements and goals, we use the best suitable and renowned website tools that are beneficial for their website to give them the best output.
Among the best affordable website design companies
While we don't have those vast rents to pay for those fancy buildings or other high bills, our team of passionate and talented people gives this advantage to other businesses by charging them reasonably for our services.
We create websites that you can edit.
While we're happy to provide you with our website management services after the project is completed, we also make sure that we provide you with proper guidance regarding the website so you could edit the website in the future on your own.
Some of our recent projects:
What to Ask When Hiring a Web Design Agency
At ProsCommerce, we strive for the utmost clarity.
What are your Web Design Capabilities?
A modern website is essential for any business in this digital era. It serves many purposes.
At ProsCommerce, our main idea is to logically project our client's business and then develop a strategy for their websites.
Then using those strategies, our experienced team members create top-notch websites that you could rely on to grow your business.
Do I own the website and it's content?
Yes! Once the project has been completed, and the website has been delivered, you own 100% of the website.
That even includes your domain, hosting, and anything associated with your website contents.
At ProsCommerce, there are no hidden charges for anything. Everything is mentioned in the contract agreement.
What you will need from me?
While we will be handling all the process, It's important to know what will be required from you, and there are areas where your involvement would be required.
Mainly in these distinct areas:
Initial Project Agreement: This is generally during the up signing of your project, where we introduce our process and review your business and your website requirements, and your preferences.
Website Content (Logo): The designing content like stock photos, images, writing content and logo to be used on the website. (we can also create that).
Domain and Hosting: Transferring your website to your host and domain. Confused or don't know about hosting? No worries! Contact us.
Final walk-through and Go live: For walking you through the website once it's near completion, revising and finalizing till it goes live.
Your collaboration could also be required outside these areas depending on the situation and project, but we believe your effective collaboration is a key to your successful website.
What platform/technologies do you use?
We use WordPress in almost 80% of our projects and use different frameworks and builders for website design, including divi, elementor, and custom coding for further modification.
Why WordPress?
There are dozens of website platforms out there, but by far, the most popular one that has dominated the website share by almost 45% is WordPress, while Shopify coming in 2nd which we usually use for e-commerce projects.
While it probably depends on the functionalities or complexities of a required website, WordPress has provided solutions in many areas and industries for small to medium-sized businesses or even some larger businesses. This is one of the reasons we use WordPress.
How much does it cost?
Website Costs vary. Some websites even cost $500, or some will even go higher than $10,000.
It's like buying a house. Are you looking for a three-bedroom house (3-page website) or a five-bedroom house with a swimming pool (5-page website, extra features)
the important thing here is to consider your budget, including the hosting and domain that cost separate from hosting companies.
At ProsCommerce, we will be happy to tell you how much your website will cost, but we will need your time first. We will need to know your requirements and goals so we can come up with the best quote for you.
Although we don't provide web hosting for now, we are happy to refer you to the best suitable hosting for you as per our experience.
Who will be my project manager?
You will be allotted a web designer who will be your project manager and remain at your project till the last.
All our designers and team members are well skilled and experienced.
How many revisions do I get?
Our first priority is always to exceed our client's expectations and to come up with the website as preferred by the client.
We will make all necessary revisions to your website before your final approval and delivery of your project.
Once the website is delivered, we can also conduct a few relevant training sessions to make it easy for you to operate.
Will I get written, designing content etc. ?
In your website package, some written and designed content will be included as it's essential to create a website with those.  
However, some advanced illustrations or any specific element on demand like Logo will be charged as an add-on.
Do you help in maintaining the website?
Depending upon the nature of business and maintaining tasks. Yes, we do provide website maintenance and operational services. Click here for more information.
NOTE: We aren't providing website hosting or server-related services; these are only front services for businesses that want to outsource their website business operational tasks. 
Will you help in SEO optimization as well?
Yes! On-page SEO optimization will be done on the website pages for the launch in the initial starting phase.
How do I pay you?
We take 50% of the deposit during a contract sign, after which we commence the work. 
We accept all kinds of debit/credit cards for payment. We also accept PayPal/Payoneer.
For all payments, an invoice will be generated by our company name ProsCommerce Ltd to your name and sent to your email, indicating you to make the payment.
Your deposit is non-refundable if we commence work. The fee we charge is for research time, labor and expertise and is not just based on the finished product.
Ready to start a project?
The question about why is a website important for a small business has been concerning many business owners in this time of the internet. The best…